Curt Cleveland - Guitar, Vocals and Keyboards. Curt, a founding member of WPB, delivers clean vocals with a professional guitar style that highlights his training and experience. His influence from artists such as Joe Walsh, Stevie Ray Vaughan, The Eagles, Neil Young and the Byrds give Curt a tasteful tried and true style that authenticates the timeless songs as well as the newer material the band plays.
Tim Ellifritz - Guitar, Vocals. Tim's playing creates a vibrant energy in the band that is contagious. His passion for his craft translates into a dynamic performance that's not to be missed. Tim's bands of influence include, Pink Floyd, Joe Satriani, Styx, Rush and Dream Theater. Playing in Rock, Folk, Country Rock, Metal, and Blues bands have all shaped Tim's well rounded style.
Dick Hornick - Drums, Vocals. Another founder of WPB, Dick is a well balanced combination of rhythm master and vocalist. Dick polished his drumming supporting well known musicians such as Roy Buchanan and Danny Gatton. Dick keeps the band driving or lays back and keeps it in the pocket, all the while also delivering powerful lead vocals for many songs.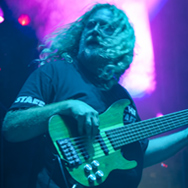 James Martin - Bass Guitar, Vocals and Guitar. James' solid yet exploratory playing is the foundation and "glue" for WPB. His influences such as Rush, Yes, Jethro Tull, Iron Maiden, Kansas and Led Zeppelin give him a solid rock style with the ability to adapt many other genres. Besides being a badass bass player James adds vocals and acoustic guitar to the bands repertoire.